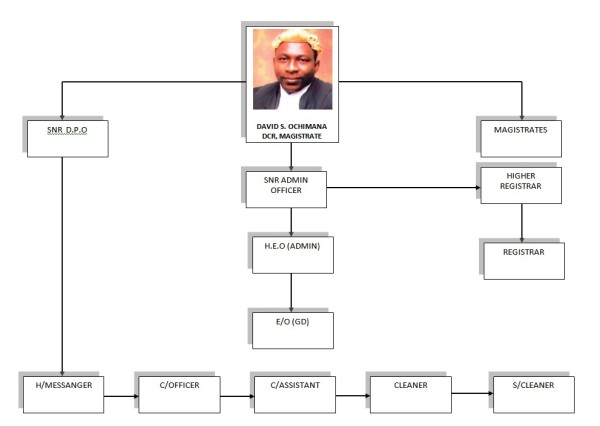 The Department consists of Seventy two (72) Magistrates of various grades spread across the various area councils of the FCT which are tastefully furnished and provided with Electronic Law Library to facilitate efficient and maximum performance.
It is pertinent to note that each Magistrate is the head of his/her court with support staff like Court Registrars, Baliffs, Court Clerks, Clerical Officers, Secretary, Messengers and police orderly. They adjudicate over both criminal and civil cases. Other adhoc duties performed by Magistrates in the FCT include Presiding in Mobile Courts, where they adjudicate over Traffic and Environmental matters; in collaboration with Federal Road Safety Commission and Abuja Environmental Protection Board respectively.
This department consist of two (3) units namely;

Magistrate Courts
Family Courts
Mobile Courts
The  Magistrate Department have Four Section Namely:
Administration Section
Legal Unit
Registry Section
Secretarial Unit
ADMINISTRATION SECTION
Sorting of mails/files
writing internal circulars and letters to magistrate Courts and other affected bodies as may be directed by the DCR (Magistrates)
Checking and filing of monthly and quarterly return of cases for onward delivery to Return of cases Department
Compilation and computation of Return of cases for legal year.
Disseminating of information and decision of the management to the Magistrates on the directives of the DCR(M)
LEGAL SECTION
The legal unit act as a responsive unit where complaint and petition filed in by litigants and their respective are looked into critically and actions taken strictly in accordance with directives of the DCR (Magistrates).
REGISTRY SECTION
Receiving mails/files on behalf of the DCR (M)
Keeping records of all activities of the office.
dispatching letters promptly to the Magistrates and other organizations.
SECRETARIAL UNIT
Under this unit, the Secretary carries out all the Secretarial functions/duties of the department.